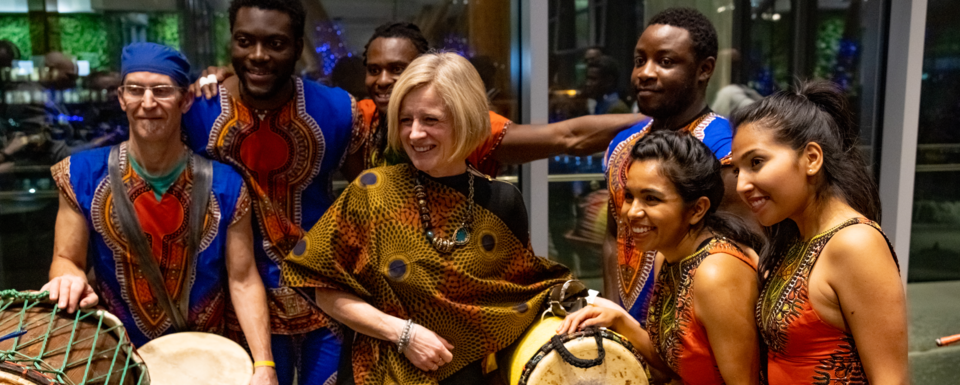 Posted on Jan 12, 2018
STEP a program benefitting youth
By Annie McKitrick, MLA for Sherwood Park
The New Year brought rejoicing with the Canadian Junior Hockey team's Jan. 5 gold medal win at the 2018 IIHF World Junior Championship.
Congratulations to the two players with Sherwood Park roots, Carter Hart and Sam Steel, who helped the team bring home the gold.
Also over the Christmas break, the Sherwood Park Ringette Association's Platinum Ring Tournament saw teams at various levels compete, culminating with their gold medal games on Dec. 30.
Both of these events reminded me of the importance of parent volunteers - as coaches, team managers, snack makers, and board members - and of how crucial the investment in building ice arenas and sport fields, from all levels of government, is in ensuring our youth's success both in sports and in life.
Ukrainian Christmas Last weekend many in our community celebrated Ukrainian or Orthodox Christmas.
In my own cultural heritage, on Jan. 6, we celebrate "la fête des Rois," marking the arrival of the three kings to the manger by baking a special cake with a hidden coin inside. Whoever gets the coin is proclaimed the king.
Summer jobs Last year, a number of Sherwood Park not-for-profits and small businesses benefited from the Summer Temporary Employment Program (STEP). I have had the opportunity to meet many of the students employed over the past few years by community organizations, many of whom have often ended up working for the same organization(s) after their studies are done. I would like to encourage qualified organizations to consider submitting an application for this program to the Ministry of Labor before the Feb. 9 deadline.
STEP consists of a four-to 16-week wage subsidy program that provides funding to eligible Alberta employers to hire high school or post-secondary students into summer jobs from May to August. It is available to small businesses, non-profit organizations, public libraries, school boards, publicly funded post-secondary institutions, municipalities, First Nations and Métis settlements. For more information, visit: www.albertacanada. com/employers/recruit/summer-temporary-employment-program.aspx.
Order of Excellence
Do you know someone in our community who deserves to be nominated for the Alberta Order of Excellence - the highest honour the Province of Alberta can bestow on a citizen? Up to 10 individuals, from all walks of life, will be inducted into the Order this year in recognition of a lifetime of remarkable contributions to their community, the province and the nation. Please contact my office if you would like to nominate someone and require assistance.
Information about the Order, including nomination guidelines, nomination forms and biographies of previous inductees, is available on the Alberta Order of Excellence website at www.lieutenantgovernor.ab.ca/aoe.
The deadline for this year's nominations is Feb. 15.
Appointees
It is always a pleasure to see local residents appointed to Alberta's public agencies, boards, commissions, or tribunals.
Individuals appointed to these positions may receive a small honorarium and have their travel expenses covered. Public boards do important work on behalf of Albertans, so it is important that the individuals who sit on them reflect the diversity of our province.
Those who serve on Alberta's boards are everyday Albertans who care about their communities and have decided to serve their fellow Albertans. If you are interested, visit www.alberta.ca/public-agency-opportunities.cfm for information on which boards are recruiting and how to apply.
The provincial government has a program that supports local organizations that work internationally. For a number of years, One! International, started by a Sherwood Park resident to provide education to children in Mumbai, has received such funding. Kudos to One! International's board and staff for their work in providing hope to needy children. The organization is holding its 2018 fundraiser, Putting the Pieces Together, on Feb. 2 at the beginning of International Development Week. Tickets
can be purchased at www.eventbrite. ca/e/one-putting-the-piecestogether-tickets-39342459355.
On Feb. 2, we will be celebrating the beginning of Black History Month with a reception at the Edmonton Federal Building at 6:30 p.m. If you are interested in attending, please register via Eventbrite at www.eventbrite.ca/e/celebratingblack-history-month-tickets-40172757800.
Wishing everyone a good start to 2018
Whatever the weather brings, I hope you have the opportunity to enjoy outdoor winter activities, such as skating, cross-country skiing at the Strathcona Wilderness Centre and downhill skiing at nearby hills. Do not forget to register for the Birkie, from
Feb. 9 to 11, at www.canadianbirkie.com.
This event, which brings international visitors to our community, is always a fun time.
First published Jan. 12, 2018, in the Sherwood Park News