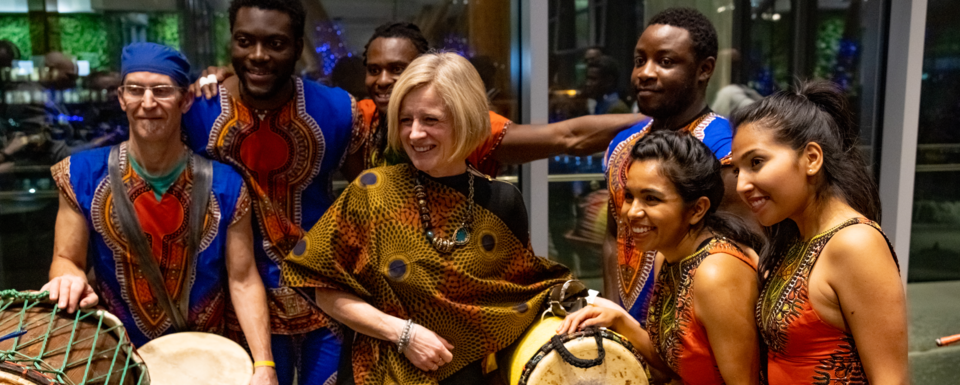 Posted on Dec 23, 2016
Celebrating Sherwood Park and the Holiday Spirit
By Annie McKitrick, MLA for Sherwood Park
This week saw the end of the fall session of the Legislative Assembly. I am looking forward to having more time to meet with residents in my constituency office and also look forward to enjoying school and community concerts and events.
Last week on Dec. 8, I attended the Governor General's Presentation of Honours in Edmonton. His excellency, the Right Honourable David Johnston presented more than 70 awards to remarkable Canadians at this event - and I am proud to say that two of these recipients are residents of Sherwood Park.
Robert Edward Burrell received a Meritorious Service Cross (Civil Division). Bob Lanman received a Sovereign's Medal for Volunteers. Along with his guide dog Harris, Lanman has been volunteering at the Good Samaritan Society continuing care centre for nearly 10 years.
Congratulations to Robert and Bob.
I will soon be mailing my latest newsletter to residents and in it, there is an explanation of the carbon levy and rebates. For those of who may want more information, please go to www.alberta.ca/climate-carbon-pricing.aspx.
At this time of the year, there are many individuals and groups in our community that go out of their way to help those in need or who just need a bit of support at this time of the year. Activities range from the Toyota dealership cycling fundraiser for the food bank, to the collection of food, warm clothing and toys in schools, and the generous donations many make to community organizations before Dec. 31. Last Saturday, the Information and Volunteer Centre had its first community Christmas dinner, which was supported by many community groups, including Imperial Oil, Safeway, the Elks, and schools. Some in attendance were refugees who were celebrating their first Christmas in Canada. Thank you for your generosity and for caring for our community.
This week, Common Ground Cafe was the victim of a robbery. This volunteer-led and run coffee shop will need our help to reopen. Please contact them to see how you might be able to help.
At this time of the year, there are many holidays to celebrate - the first day of Hanukkah is Dec. 24 and I would like to wish Jewish residents a happy holiday with many latkes and games of Dreidel. Many of us celebrate Christmas as the birth of Christ, and my hope is for the love, hope, peace and joy of the advent candles in our community. For everyone, I wish you wonderful time with family and friends and a restful holiday.
Annie McKitrick is the Member of the Legislative Assembly for the Sherwood Park Constituency. If you have any questions or comments about this column or any other provincial government issues, she would like to hear from you. Please contact McKitrick's constituency office at 780-417-4747 or by e-mail: sherwood.park@assembly.ab.ca.
First published in the Sherwood Park News Dec. 23, 2016.