Posted on Nov 16, 2020
NDP JOINS SMALL BUSINESS OWNERS TO DEMAND MORE SUPPORT, BETTER PLANNING FOR FUTURE COVID-19 MEASURES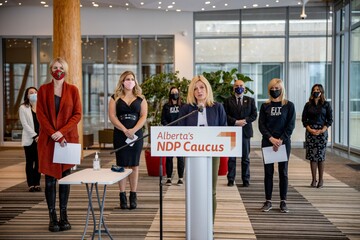 EDMONTON - Alberta's NDP and small business owners are calling for a suite of support measures for struggling small businesses in light of new, last-minute COVID-19 measures announced by the UCP government last week. 
"Once again Jason Kenney has delayed action until the last possible moment creating unfair pressure on struggling small businesses in many parts of Alberta," said NDP Leader Rachel Notley. "Businesses need certainty, and they need support from this government so that we can all do our part to bring COVID-19 under control without completely sacrificing livelihoods."
After weeks of record high cases of COVID-19 and multiple calls from physicians and other experts for the UCP government to take action to contain the spread of the deadly virus, Jason Kenney announced a number of minor new measures Thursday. 
"Jason Kenney knew this was coming and yet, once again, he gave businesses virtually no warning before enacting new restrictive measures," said NDP Edmonton-Ellerslie MLA Rod Loyola, who has been tasked with consulting with small businesses about Alberta's current pandemic response and plans for the future economy. "I think most people are willing to do their part to bend the curve, but businesses need more information, and more support from this government. There's really no excuse for this failure of leadership."
Alberta's NDP is proposing seven measures to support businesses that are affected by the new restrictions, and to better prepare businesses for future measures that may come.
Triple the funding for the Small and Medium Enterprise Relaunch Grant offered by the government to $600 million total, allowing for businesses to receive $10,000 each (up from $5,000) and lowering the qualifying threshold from 50 per cent revenue lost to 40 per cent revenue lost during any two-month period of the pandemic (not just April and May as it currently specified).
Match the incoming federal Lockdown Support program up to 25 per cent to provide coverage to businesses forced to close as a result of COVID-19. 
Reinstate the commercial eviction ban that expired on Aug. 31 for six months to April 2021.
Reinstate the ban on utility shutoffs for six months and institute a deferral of up to 6 months to April 2021. Also, amend legislation to authorize forgiveness on utility costs or reduced rates at a later date.
Renew call for 50 per cent reduction on small business insurance and extend reduction to June 30, 2021.
Provide government-backed low interest lines of credit of up to $30,000.
Introduce a COVID-19 Risk Index that gives business the ability to plan for moving up or down a stage of the relaunch strategy.
Alberta NDP Finance Critic Shannon Phillips said the measures proposed would provide certainty for struggling small businesses during the COVID-19 second wave.
"The economy runs on confidence," Phillips said. "Due to UCP inaction on COVID-19, UCP cuts and chaos in the health care system, and a failed UCP jobs plan, Albertans have little confidence in the government's ability to keep the economy moving. They must act now before more businesses are forced to close for good."
Juanita Brattly, co-owner of Fit on 45th, said the biggest challenge they face is relief on rent, especially after being forced to shut down all fitness classes in the most recent wave of COVID-19 measures announced by the province last week. Brattly said they intend to access the Lockdown Support from the federal program but it will not be enough. 
"We need far more assistance than is outlined and fully need and support the proposal that the Alberta government match the offering of the federal government," Brattly said. "We want our business to survive and get back to providing our community with an engaging and fun space to take care of their physical and mental well-being."
Chantelle Beasley has also been forced to close her business, Aradia Fitness.
We need full rent support and we want to see an insurance freeze and a utilities freeze," Beasley said. "The government should have had these supports in place before making me close my doors." 
Katy Ingraham, co-owner of Cartago and Fleisch Delikatessen, voluntarily shut dine-in options at her establishments to help protect patrons and staff. She said she's played her part but the provincial government has failed to provide assistance.
"The UCP government is not providing enough support for small businesses that have been forced to shut or drastically reduce operations and is forcing small businesses to shoulder a burden that we can no longer afford to carry," Ingraham said.
Economists have been clear that governments are well-positioned to manage public debt in order to support businesses. The UCP government must do more to ensure these businesses can weather the storm by adhering to public health orders.