Posted on Oct 6, 2020
JASON KENNEY TO COST RURAL ALBERTANS THOUSANDS MORE IN PROPERTY TAXES: NDP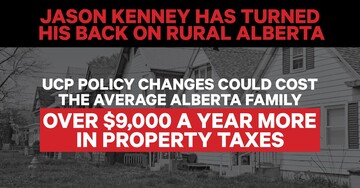 EDMONTON - Planned changes to the Linear Property Assessment Minister's Guidelines could cost the average family over $9,000 a year more in property taxes for some rural communities according to analysis conducted by the Alberta NDP Caucus.
"Jason Kenney has turned his back on rural Alberta," said NDP Leader Rachel Notley. "These are staggering figures that could have potentially devastating impacts on rural Albertans."
Changes to the Linear Assessment model are the latest hit to struggling municipalities after a series of damaging moves by the UCP government including reductions to the Municipal Sustainability Initiative (MSI), reductions to Grants in Place of Taxes (GPOT), and downloading the costs of policing to rural communities. 
According to analysis by the NDP Caucus, the total, cumulative, fiscal download over four years from these early UCP policies is estimated at $551 million, or an average per-capita cost of $131.35, or $525.40 per household.
Proposed changes to the Linear Assessment Model could download an additional $582 million to Alberta homeowners through higher property taxes over the remaining years of the UCP government's mandate. 
The loss of that revenue will force municipalities to either cut services, fire employees, freeze wages, or significantly raise residential property taxes.
Further analysis examining five municipalities shows how severe the UCP's plan for downloading costs on municipalities would be in the first year of the changes to Linear Assessment model:
Northern Sunrise County

Population: 1,891
Revenue Loss: $4.5 million
Revenue Download Cost per Household: $9,518.77
Municipal District of Taber 

Population: 7,173
Revenue Loss: $4.1 million
Revenue Download Cost per Household: $2,286.35
Newell County

Population: 7,524
Revenue Loss: $11 million
Revenue Download Cost per Household: $5,847.95
Cypress County 

Population: 7,662
Revenue Loss: $11 million
Revenue Download Cost per Household: $5,742.63
County of Wetaskiwin No. 10 

Population: 11,181
Revenue Loss: $3.8 million
Revenue Download Cost per Household: $1,359.44
"The UCP are putting forward a proposal that will take money from municipalities and give it directly to multinational companies without the guarantee of jobs or investment here at home," said Joe Ceci, NDP Critic for Municipal Affairs. "Every rural UCP MLA knows exactly how bad this is for families in rural Alberta and they're not lifting a finger to help."