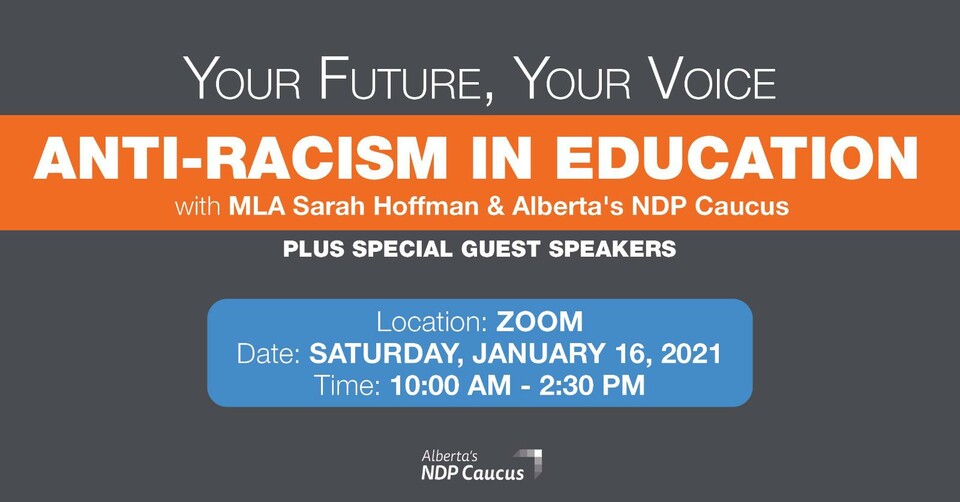 Your Voice is Important!
Policies focused on diversity and inclusion based on an anti-racist practice are urgently needed in Alberta.
In consultation with Albertan's earlier this year, the Alberta NDP Caucus heard from Albertans that policy development is most needed within education, health, economic participation, public safety, community services, and democratic participation.
Based on that work, we have developed policies in each of those areas that will actively work to eliminate exclusionary practices. Before we propose these policies to the Alberta Government for urgent implementation, we are asking Albertans to share their feedback once again.
In continuation with the series, the Alberta NDP Caucus will be hearing from community leaders, advocates, and organizations involved with diverse communities across the province about our policies for the area of Education, which will include both K-12 and Post-Secondary measures.
This second instalment, Your Future, Your Voice: Anti-Racism in Education, will be held on Saturday, January 16th, 2021. The Alberta NDP will continue to hold space for all Albertans concerned with approaching diversity and inclusion through an anti-racist practice.
Your voice is important and invaluable. Please register here to join the conversation.
This is a free digital event. You will receive a secure Zoom link a few days prior to the event date.
Agenda:
9:30am - Registration
10:00am- Opening Remarks
10:45am - Speaker: Dr. Dustin Louie
11:15am - Policy Discussion 1
12:15pm - Lunch Break
12:45pm - Speaker: Dr. Farha Shariff
1:00pm - Policy Discussion 2
2:00pm - Next Steps
2:30pm - Closing Remarks