Work
The Team
NDP School Reopening Survey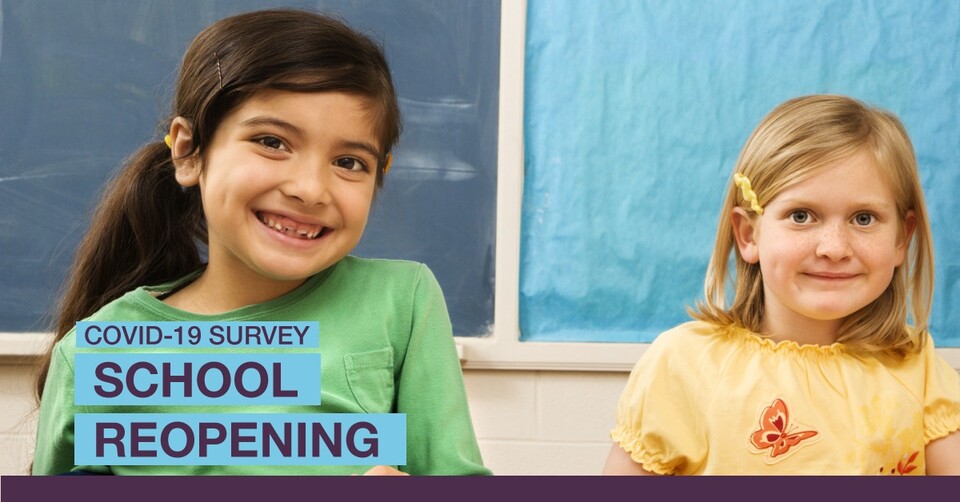 The Education Minister has not had a thorough consultation with students, staff and families, on how K-12 education should proceed in the fall.
Many Albertans believe that this government is setting school up to fail.
Students, staff, families are crucial for the success Alberta's education system, and have insight into needed supports and best practices that will keep our schools safe and allow our students to succeed.
That is why the Alberta NDP Official Opposition is conducting consultations to understand concerns and what supports are needed so K-12 education can operate successfully.
Based on the responses, we will create a report highlighting major concerns and suggestions around how our education system should operate in the fall.
Have your voice heard and fill out our online form!
Responding to COVID-19 - What We Propose
Alberta is facing both a global health pandemic, and an unprecedented economic crisis. Albertans everywhere have been laid off, and are forced to grapple with the financial challenge of being able to pay their bills.
We believe that the Government of Alberta must do all it can to support Albertans through these difficult times, from banning evictions for renters to providing financial relief to businesses. We have proposed a number of policies that seek to protect Alberta's public health care, families, workers, communities and economy, and have offered to work with the UCP Caucus to ensure that all Albertans are supported during this very challenging time.
Thanks in part to the advocacy of our partner organizations and the vocal support of Albertans from across the province, we have successfully encouraged the government to adopt some of these new policies.
Protecting public health care
1
Stop elimination of nursing and front-line healthcare worker positions during the pandemic.
Prior to the pandemic, 750 registered nursing positions, as well as other front-line healthcare worker jobs, were scheduled to be eliminated on April 1, 2020.
Status: The UCP government agreed to pause their planned layoffs during the pandemic. However, we are still seriously concerned that these nurses will be laid off after the pandemic.
2
Support front-line health by reinstating the agreement with doctors.
In December 2019, the UCP government tore up its contract with physicians and walked away from the negotiations. It was subsequently revealed that the government was trying to make substantial changes to the contract, including decreasing pay for physicians and arbitrarily introducing new rules for billing practices without consulting physicians themselves. Since then, reports of physicians retiring, leaving hospitals or even leaving Alberta have appeared regularly and with startling frequency. The impact on rural Alberta has been profound, as communities grapple with lack of access to good primary health care.

Since last year, we have encouraged the UCP government to reinstate the agreement with doctors to ensure they are adequately supported in addressing the pandemic, and then enter into arbitration to develop a new contract.


Status:  The UCP government has only backed down on 3 of their 11 changes to the doctors' agreement. We are appealing directly to the rural UCP MLAs to recognize the irreparable harm that is being done to their communities.
3
Increase resources to healthcare system
Each of Jason Kenney's budgets have been more devastating than the next, but the budget introduced in March 2020 was rammed through the legislature with very little consultation with experts and few opportunities for scrutiny and debate with stakeholders and the Official Opposition. In fact, it was introduced and passed in just three days – unprecedented for a provincial budget, but particularly concerning for a pandemic.


In order to ensure our health care system is adequately prepared to respond to the pandemic, we are asking the government to increase the resources available to primary care, including more health care workers and more beds.
Status: Although the government agreed to provide an extra $500 million to health, Alberta Health remains $462 million short of the necessary funding after factoring in inflation and population growth.

Protect Families
4
Financially support those unable to work
We asked the government to immediately provide emergency funding for Albertans who could no longer work due to self-isolation, or because they were caring for children and loved ones.
Status: The UCP government agreed to provide $573 for two weeks until Federal EI expansion becomes available. Unfortunately, the provincial program was flawed in implementation and only half of eligible Albertans received the funding.
5
Provide free child care for essential service workers during the pandemic.
We must ensure that those who provide essential services to Albertans are supported with free child care as needed.
Status: Waiting on government response
6
Support families receiving the Alberta Child Benefit
We have asked the government to match the Federal government's addition to the Canada Child Benefit by providing an additional $300 per child to the Alberta Child Benefit.
Status: Waiting on government response
7
Support students with the Provincial Education Program
The government must reverse their devastating cuts to the Education budget, starting with reversing the $10 million reduction to the Provincial Education Requisition Program.
Status: Waiting on government response
8
Support post-secondary students receiving student loans
We can support post-secondary students who are unable to work by introducing a 6-month deferral on student loan payments.
Status: Policy adopted by the government.
9
Help families homeschooling children
To help children learn at home, we propose a new grant program to provide a one-time payment of $250 for each child enrolled in preschool and K-12 education and $300 for each child with special needs, to help families buy equipment and supplies.
Status: Waiting on government response
10
Provide financial relief for landlords and tenants
To protect the finances of both landlords and tenants, we are proposing a rental support of $300 per month for eligible households with no dependents, and $500 per month for eligible households with dependents. These payments would be provided directly to landlords to help offset their costs.
Status: Waiting on government response
11
Ban renter evictions during the pandemic
We asked the government to protect renters and pass legislation to prohibit evictions.
Status: After repeatedly rejecting this request, in late March the UCP government introduced legislation to protect renters from back-billing by landlords and put a ban on evictions until April 30. On April 22, we called on the government to extend the ban on evictions to July and they indicated there would be no extension.
Protecting Workers
12
Ban utility shutoffs during the pandemic
We asked the government to pass legislation that would ban companies from being able to shut off utilities during the pandemic.
Status: The Premier has said companies will not shut off services during the pandemic.
13
Introduce expanded job protection
Albertans were being directed to self-isolate for 14 days if they suspect they have contracted coronavirus, and to stay home when feeling ill. We encouraged the government to introduce stronger job-protection legislation and compensation supports to ensure Albertans do not feel compelled to go to work while sick.
Status: Policy adopted by the government, however the policy introduced allows for un-paid leave.
14
Ban sick notes
We encouraged the government to follow the lead of the Government of Canada and not require sick notes during the pandemic.
Status: Policy partially adopted. Sick notes are now not required for the new 14 day job-protected leave, however the government has provided employers with no additional guidance regarding sick notes.
15 - 18
Protect facilities and services for seniors
To combat the spread of COVID-19 in seniors' facilities and protect workers, we propose that the government immediately provide:
a centralized response with hazard pay for workers in seniors facilities,
priority access to PPE
stress tests for facility operators' pandemic plans in response to the rising number of fatalities in Calgary's McKenzie Towne.
surge funding of 20% over monthly operating costs for six months to seniors' housing providers.
Status: Government has introduced an increase of $2/hour for Healthcare aides and is providing $24.3M directly to LTC operators to cover additional costs. However, there is no hazard pay for any other workers, and the new agreement creates disparity between operators across the industry. There has also been no response to our request for priority access to PPE.
Protecting the economy
19 - 24
Protect jobs and small businesses
We are proposing a number of measures to support Alberta's small businesses and the thousands of jobs they provide. We propose that the government:
supplement the 75% federal payroll subsidy with an additional 10% in funding for small businesses that are closed but still paying their employees.
Provide a backstop of up to $7,500 for landlords who enter into rent deferral agreements.
Provide an emergency rent subsidy up to a maximum of $10,000.
Freeze insurance premiums immediately and retroactively, then reduce them by 50% for the duration of the public health order for social distancing.
Support those shifting to an online business with $5,000.
Provide a $10 million guarantee to festivals that support small businesses.
Status: Waiting on government response to all proposals.
25
Defer all residential and commercial property taxes
Status:  Although the government did defer commercial taxes for 6 months, they have yet to indicate whether they will do the same for residential taxes.
26
Support closed child care centres
Without government support, many of Alberta's child care centres will be unable to pay their bills, and thus unable to reopen when the pandemic is over. Albertans need child care centres so they can return to work, and support their families and the economy. We propose that the government provide immediate funding to these child care centres so they can continue to support working Albertans.
Status: Waiting on government response
Protect communities
27 - 28
Support municipalities
In order to support municipalities and protect municipal services, we proposed that the government
Reverse the 4.2 per cent increase to municipalities' Education Property Tax to keep the money in Albertans pockets
Reverse the 50% reduction to the Grants in Place of Taxes program, also known as G-POT. G-POT is a program where the government provides grants instead of paying taxes to municipalities for Government owned properties in those municipalities
Status: Although the government has reversed the increase to Education Property Tax, they have not reversed the reduction to G-POT.
29
Provide transparency in decision-making
It remains unclear what was behind Community and Social Services Minister Rajan Sawhney's controversial decision to block the City of Calgary from the housing homeless population in hotels. We are asking the government to release all data and medical recommendations that lead to this policy
Status: Waiting on government response
30
Support Albertans on AISH or Income Support
We are proposing that the government provide a monthly $300 supplement to Albertans on AISH or Income Support — who are not eligible for federal financial support programs — until the COVID-19 pandemic is over.
Status: Waiting on government response

In addition to our proposals to the provincial government, we have proposed the following policy changes to the Government of Canada
1
Increase fairness to Albertans by removing the $60 per capita cap of Fiscal Stabilization in the Budget 2020
Status: The federal government has indicated they are considering this proposal.
2
Support workers by reducing the number of insurable hours required to qualify for EI to the lowest in Canada, at 420 hours
Status: Coverage provided, but not for everyone. Will be seeking further clarification from the federal government.
Do you not qualify for financial support during the COVID-19 pandemic? Please let us know at NDPCaucus@assembly.ab.ca
3
Provide a $500 million loan to the Orphan Well Association to put the drilling sector back to work to remediate sites during the downturn
Status: Waiting on government response
8-Point Smart Relaunch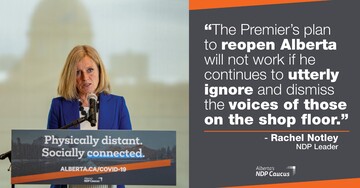 As the reopening date for Alberta businesses looms, the Alberta NDP Official Opposition is calling for a package of supports to keep workers safe and support businesses.
Starting May 14, some retail businesses like clothing, furniture and book stores, farmers' market vendors, and personal services like hairstyling and barber shops are allowed to open. In addition, cafes, restaurants, pubs and bars can reopen for public seating at 50 per cent capacity.
NDP Leader Rachel Notley contrasted the Alberta reopening plan with that of Ontario, which has released 61 sector-specific reopening guidelines and has also set clear benchmarks for COVID-19 containment. Among those benchmarks, is a two- to four-week decrease in the number of new daily COVID-19 cases.
"The threat of COVID-19 remains in our province – it would be naive to assume the worst is behind us," said NDP Leader Rachel Notley. "The only way we can properly reopen Alberta is with robust, evidence-based preparation and meaningful supports for businesses and workers. Without these, the chaos that could ensue will make things harder for most Albertans." 
Over the last week, the Alberta NDP has consulted with workers and small business owners. Based on these discussions, and in light of the UCP Government's reopening strategy, the NDP is putting forward an eight-point Smart Relaunch Strategy.
The initial proposals include:
Establish a small business task force that would develop and release prior to May 14 a consistent set of rules on matters including business access, outside service, product handling, employee safety and consumer masking. Some of these guidelines would be sector-specific. The task force must include employers, employees and medical health experts. 
A set of clear benchmarks demonstrating COVID-19 containment before Phase 2 of the Premier's reopening strategy is initiated. These benchmarks could be modelled off of those set out by Ontario. 
A guarantee that workers unable to go back to work because of public health rules  will be able to access currently available financial supports and any rolled out in the future.
A guarantee that businesses who choose not to reopen until the public health state of emergency lifts will be able to access available financial supports and any rolled out in the future
A provincial grant program that will assist businesses with procuring appropriate personal protective equipment (PPE) and a set of guidelines from the Chief Medical Officer on appropriate PPE by sector. The NDP also reiterates a previous call for a weekly PPE inventory report from the province.
A plan to hire substantially more Occupational Health and Safety investigators and to ensure worksite inspections are being conducted in person, not via webcam.
Clear timelines for reaching the Premier's goal of 20,000 tests per day, given that current rates have not exceeded 5,000 tests per day. 
A plan to hire more contact tracers to help identify those at risk of exposure to COVID-19.
The Alberta NDP anticipates releasing further calls to action for financial support for small businesses that are reopening later this week. 
The call for supports for businesses comes as the Cargill meat plant in High River reopened Monday morning, despite ongoing concerns from workers — a survey released by the United Food and Commercial Workers over the weekend indicated 85 per cent of Cargill employees do not believe the plant is safe. Mediation over the weekend did not reach a satisfactory conclusion and inquiries directly to the UCP Government from UFCW to delay the reopening went unanswered.
"This government hasn't even figured out how to properly protect workers at sites that have been deemed essential, such as Cargill," Notley said. "More than 900 employees at Cargill — roughly half of the total workforce — have been infected with COVID-19. One worker has died and still the Premier and the Minister of Labour sit on their hands. Cargill must be shut down until the workers' safety concerns have been addressed. 
"How many more people have to die before Jason Kenney takes action?"
An additional 444 employees at the JBS meat plant in Brooks have tested positive for COVID-19 and the plant has never closed. The NDP Official Opposition reiterates its call to close that plant until worker concerns have been addressed as well.